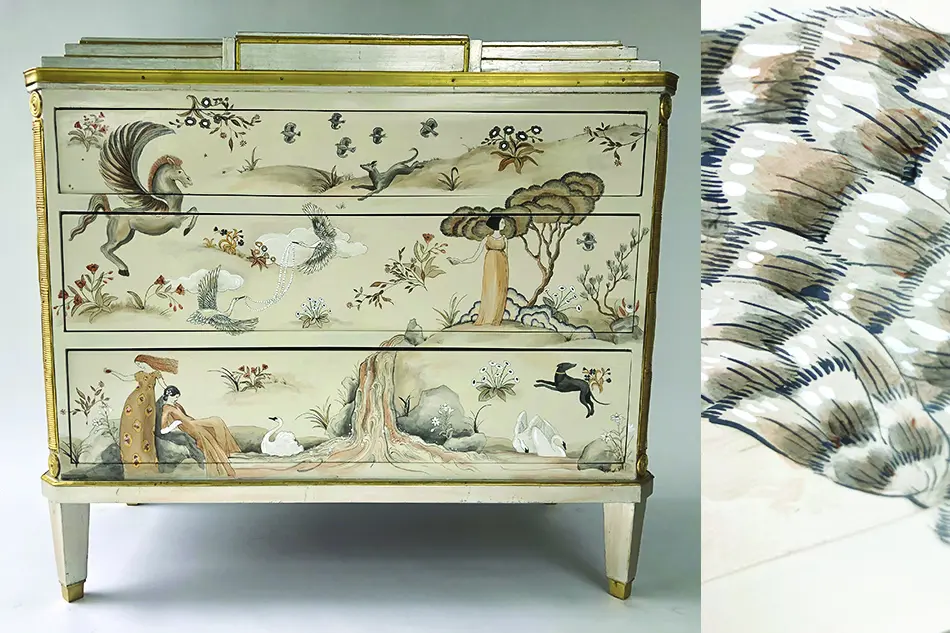 Silver leaf and custom painted furniture commissioned by Soucie Horner for the lobby at The Orchard in Chicago, IL.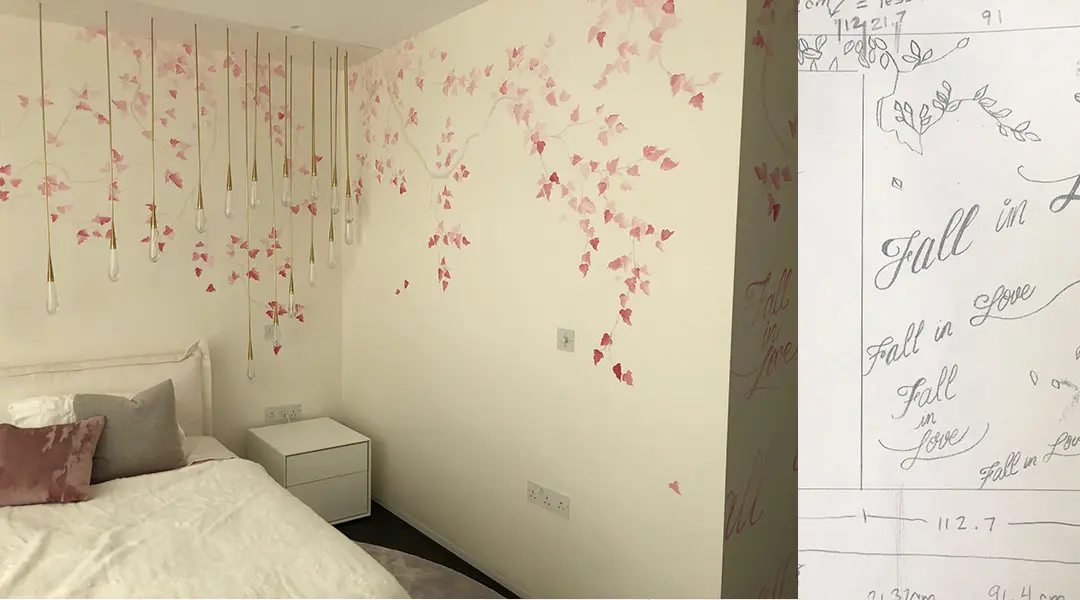 Designer Dara Huang of Design Haus Liberty commissioned this hand painted silk wallpaper for a London flat.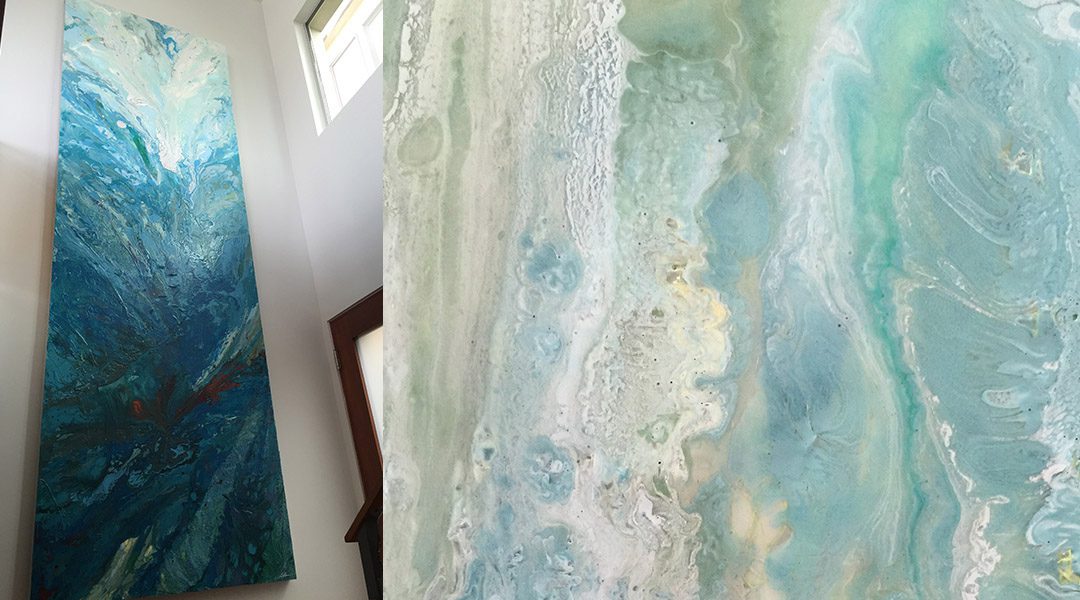 Large scale custom abstract work of art for a residence in Manhattan Beach.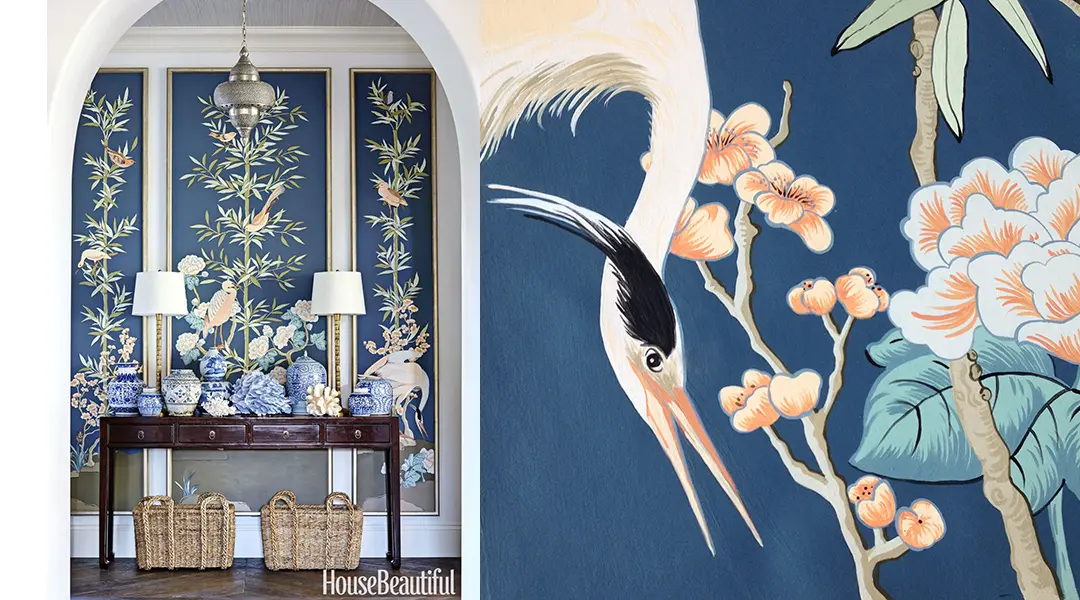 Commissioned by Summer Thornton for a beautiful foyer entry in Naples, FL.
Working with an existing color palette, Maggie Jerde Joyce commissioned this Chinoiserie pair for her client's master bedroom in Hingham, MA.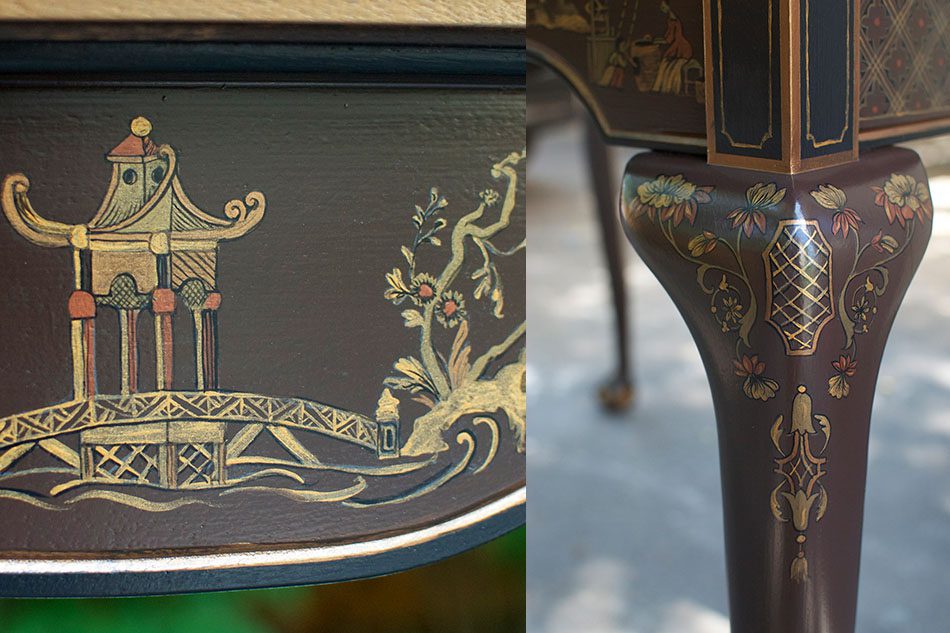 Chinoiserie scenes and designs hand painted on custom made console tables for a residence in Chicago, IL. Metallic copper, bronze and golds on chocolate brown.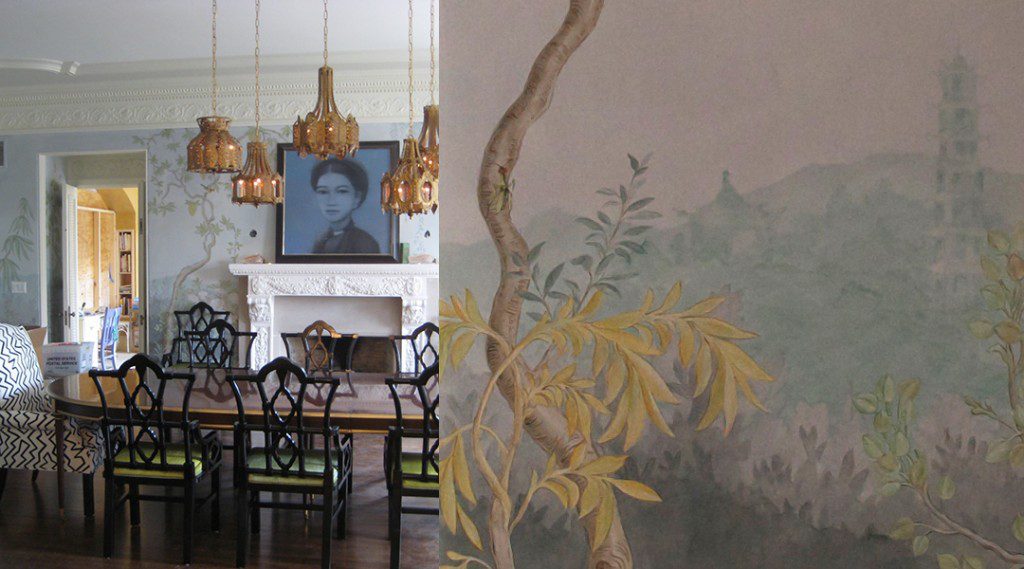 A panoramic Chinoiserie style landscape hand painted on the walls of this gorgeous Wilmette, IL dining room. Commissioned by Summer Thornton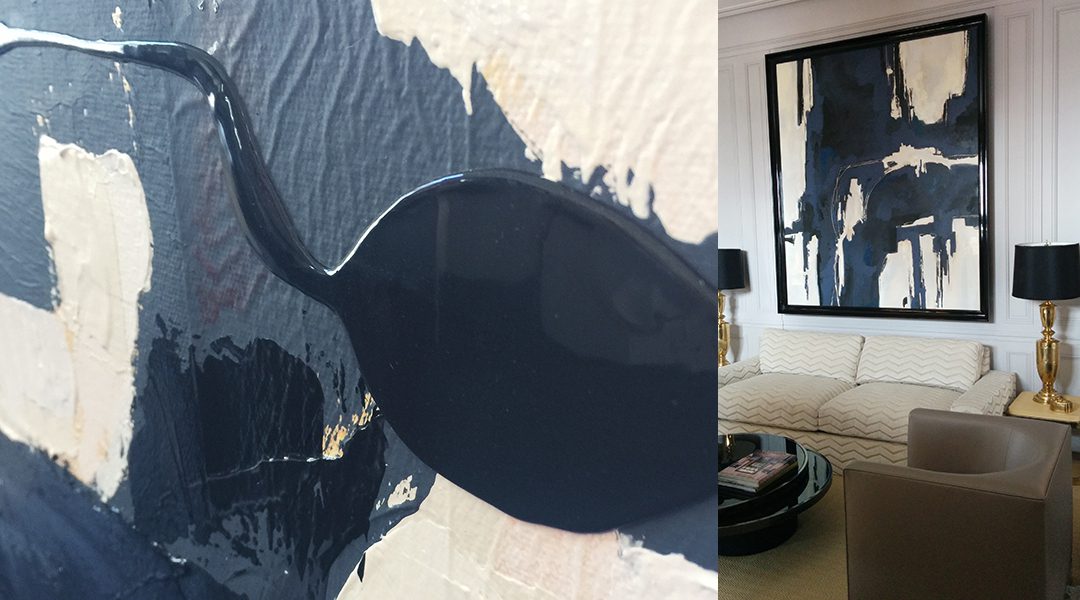 Paper and acrylic on canvas. Custom work for designer Alisa Bloom.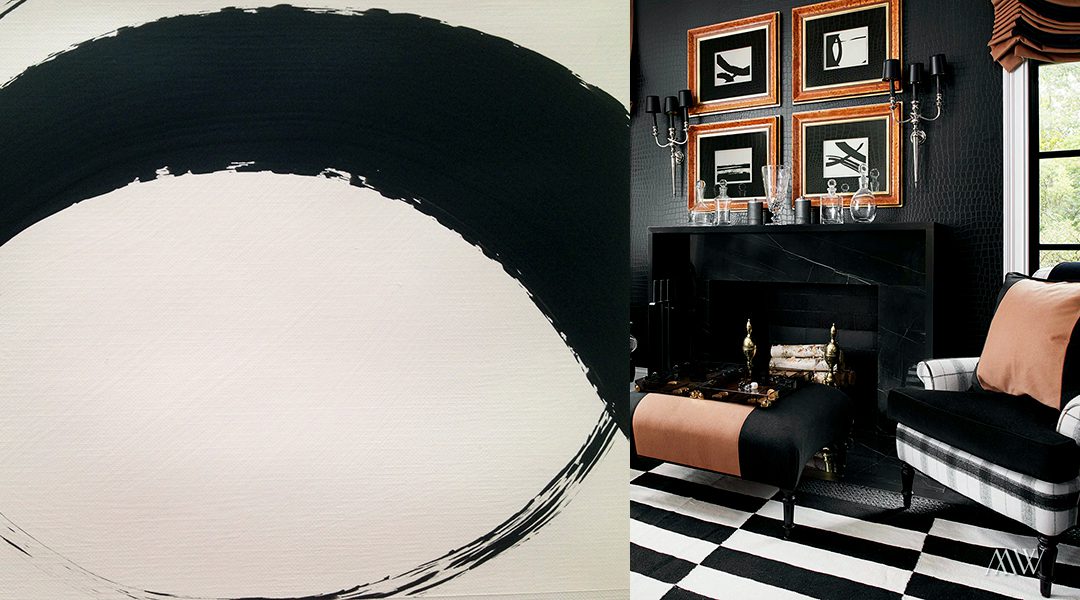 Black and white zen abstract pieces done for the home of designer Megan Winters.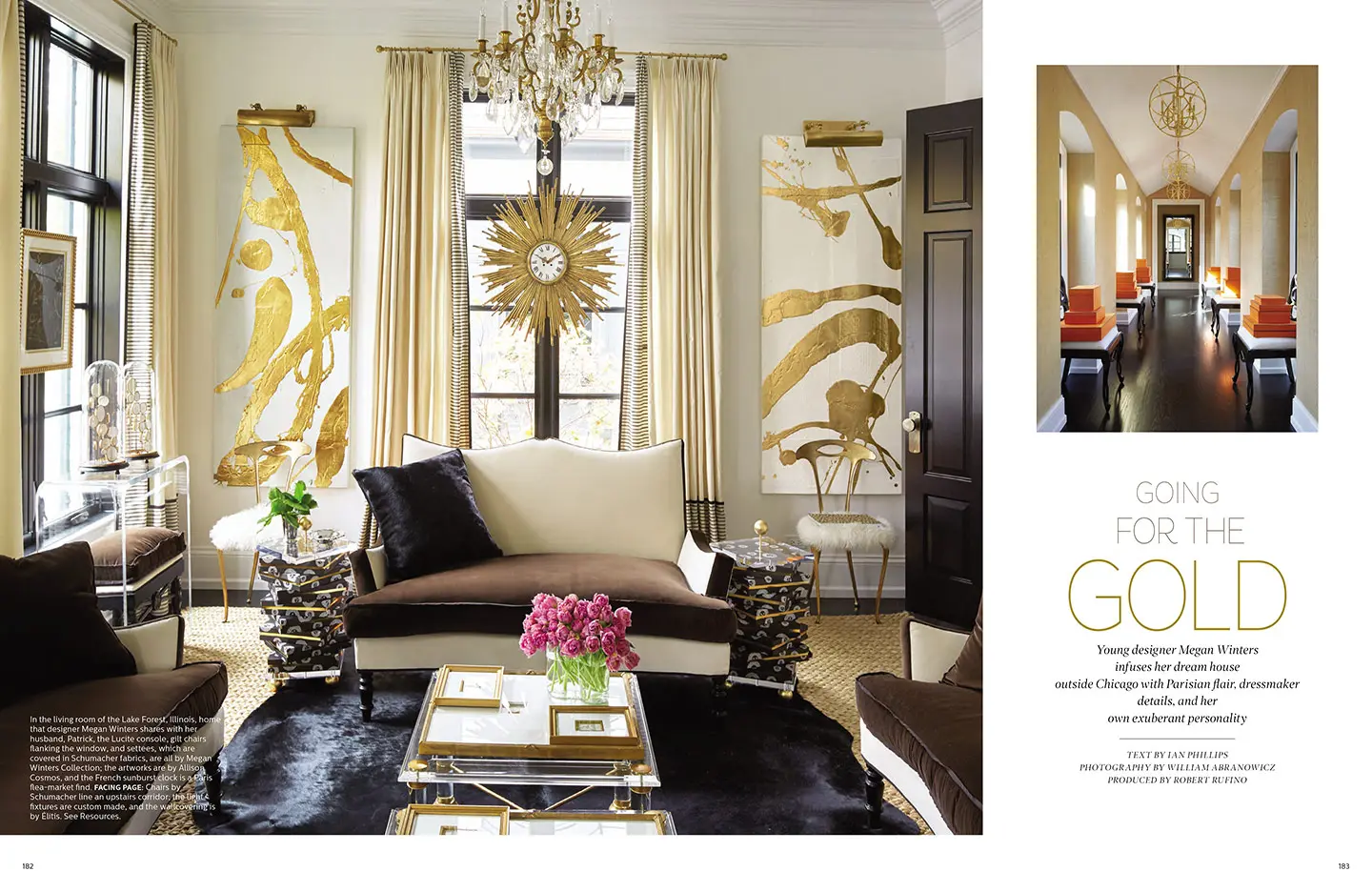 Gold and white abstract paintings by Allison Cosmos for the home of designer Megan Winters. Featured in Elle Decor. Photo by William Abranowicz.
Art can be challenging to find. It's got to be the RIGHT size, the RIGHT color palette and something that you absolutely LOVE. Art is an investment. For some, collecting art is fun, for others it's overwhelming. Allison can help you create something perfect for YOU! Shas worked with designers, homeowner and business owners for over 26 years creating custom works of art.
There are many steps throughout the process and Allison takes you through them one at a time!
1. Inspiration: Communicating visually is key. Show your existing space, favorite fabrics or even a special serving tray of yours. Photos of rooms you love on Instagram, color palettes or even photographs of places you've been. We often use paint fan decks to communicate specific color selections or samples of fabrics or papers planned are sent to the artist. Allison compiles inspiration and reference for all her projects on Pinterest. Sometimes we pin on a board together. It's also helpful to know what you DON'T want!
2. Dimensions: Whether it's custom triptych, a repeat fabric pattern or a wallpaper mural, the first thing is to get your dimensions together. Consider spacing around doors/windows, height of furniture and how high the ceilings are. Use tape or cut out brown paper to envision where it will go. Photos of the space are super helpful as well and if you have elevations done be sure to send them over!
3. Sketches and concepts: Most projects require some sort of sketch. This is how to best work out composition and scale. I usually do sketches with pencil and paper but sometimes I develop them into miniature paintings or a full color small section for approval. Once approved, the project gets drawn out in pencil to scale.
4. Lots of progress photos: I'm a big fan of sending periodic photos of my progress as I move through the project. Sometimes I have questions and sometimes I am just so excited to share! This is also an opportunity for you to share how you feel about the progress.
5. Final approval, payment and shipping: Before shipping out your work of art we get final approvals! This is when you pay the remainder of the deposit due. Allison prefers shipping Fedex and you can select what speed you need. Large pieces are best shipped rolled to minimize possible risk to the originals. They can be shipped directly to your framer if you wish. A tracking # is always provided and we LOVE to know when the pieces arrive in perfect condition! Let us know! Extra credit if you send photos of your piece framed and installed!
We welcome opportunities to collaborate with you. Share your ideas and inspiration and we can create just about anything on canvas, paper, wallpaper, walls and furniture and ship worldwide. Here is a just a small sampling of projects executed. Send us a message now!
How do you do that you ask? Watch a project unfold from start to finish including the sketches, reference gathering, sampling phases, products used and watch the magic unfold. Learn how here!